TRISH HART'S NATURE PHOTO OF THE MONTH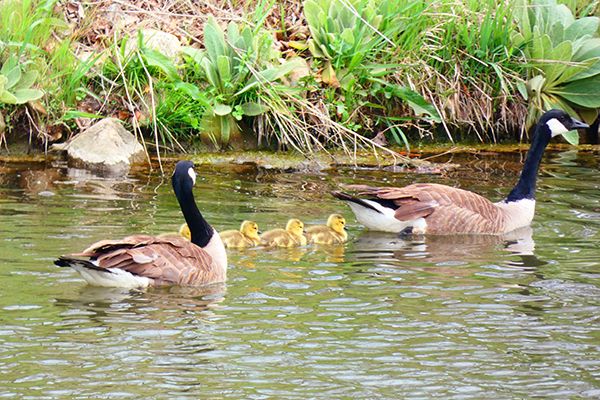 Posted 6/8/21
By Susan Thompson 
Lake Panorama Times 
Trish Hart is a local photographer who specializes in pictures of birds and other wildlife at Lake Panorama and provides a monthly nature photo for this publication.
While there is no denying Canada geese cause some problems at Lake Panorama, the sight of recently hatched goslings swimming with their parents can make even the most cynical person smile.
The Canada goose is naturally migratory throughout North America. However, populations have grown substantially in places like Lake Panorama. This problem is partially due to the removal of natural predators and an abundance of safe, human-made bodies of water near food sources.
During the second year of their lives, Canada geese find a mate. They are monogamous, and most couples stay together for life. The female lays an average of five eggs, and both parents protect the nest while the eggs incubate 24 to 32 days.
Hart says each year this pair returns to the cove where she and her husband Scott live. She named them Otis and Mable.
As soon as goslings hatch, they are able to walk, swim and find their own food. Parents are often seen leading them in a line, usually with one adult at the front, and the other at the back. Hart's photo shows Otis and Mable are typical Canada geese parents, out for a swim with their four goslings.
Hart offers custom prints of her photos on canvas, paper, metal and glass. For more information, visit NaturesCanvasPhotos on Facebook.