Big Green Umbrella Media buys Times Vedette


Lake Panorama Times and Times Vedette are again under common ownership.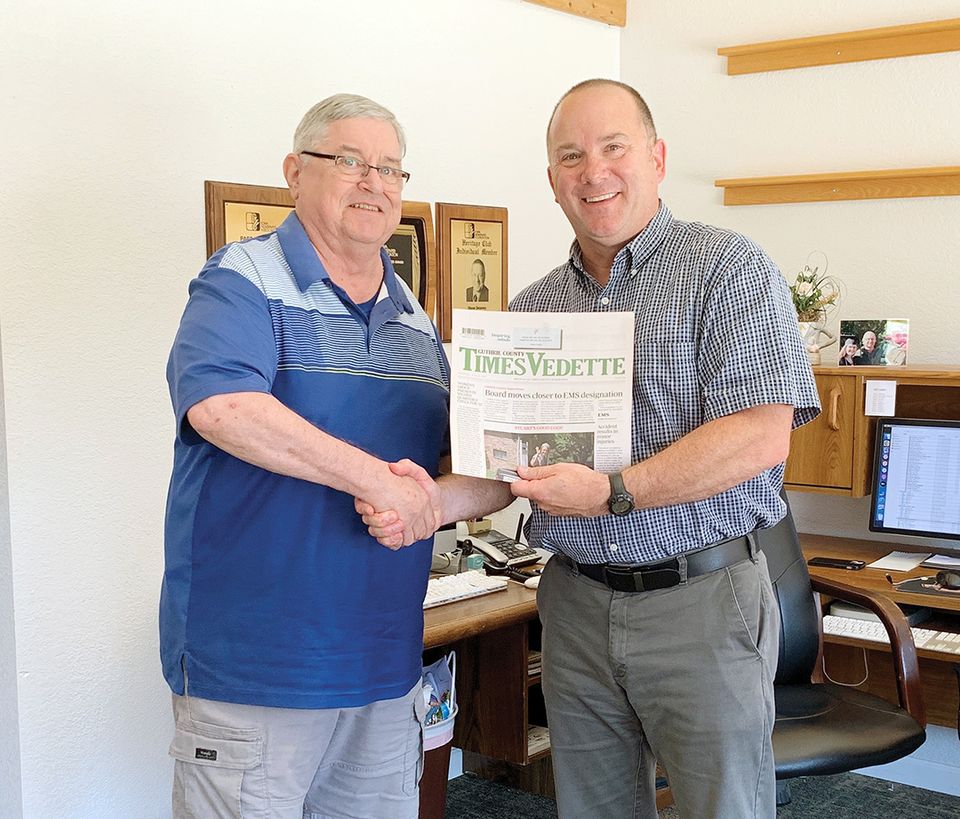 Posted 7/6/2022
The Guthrie County Times Vedette has been sold. The newspaper, which has roots in the county dating back more than a century, has a new owner effective July 1, 2022. Steve Delaney, who has owned the paper since July 1, 2019, has sold it to Big Green Umbrella Media, Inc. of Johnston.
Shane Goodman is the founder and owner of Big Green Umbrella Media, which publishes CITYVIEW magazine, 13 Iowa Living magazines in the Des Moines suburbs and the Lake Panorama Times, as well as a number of other publications, websites, events and digital offerings.
"I am pleased to bring this newspaper into our family of locally owned publications," said Goodman. "I have great confidence in the people of this county, and I look forward to getting to know even more people here."
Goodman purchased the Lake Panorama Times in 2020, about the time when the COVID-19 pandemic hit.
"It wasn't the best timing, but we made it work," he said. "The Lake Panorama Times fit with what we do, and we believe the Times Vedette will as well."
Delaney will remain with the newspaper through July and says he will assist as needed to ensure a smooth transition.
"It's important to Times Vedette readers to work to ensure a seamless transition. Ownership of a newspaper can change, but its mission is the same, and we'll work together for the next few weeks to make that happen," Delaney said. "As for my future, I'm planning to move to the eastern side of Iowa, closer to Dubuque, where I have family."
Goodman and his wife, Jolene, have been Guthrie County homeowners at Lake Panorama since 2020 and have spent much of their time in the county since.
"We love it here," said Jolene Goodman. "And we want reasons to be here more."
Jolene serves as Big Green Umbrella Media's advertising director and oversees the sales operations, which include nine salespeople. She says Stormy Miller will continue with the Times Vedette, as well as the Lake Panorama Times. Miller had been working for both papers in advertising sales through a unique sharing agreement.
"We appreciate the relationship we had with Steve and the Times Vedette in the past, which allowed Stormy to work for both of us," said Jolene Goodman. "She is an important part of our staff, and we look forward to working more closely with her in months ahead."
Miller and her husband, Sam, are expecting their first child in July, but Jolene Goodman says they will work to cover the bases in her absence and look forward to her returning to work.
Shane Goodman says he will be reaching out to those who have served as freelancers or contributors to the paper as well. He is also looking to hire additional writers and photographers. Those interested should reach out to him at 515-953-4822, ext. 305 or
shane@dmcityview.com
.
"Change is inevitable," said Goodman. "But don't expect any big changes to the newspaper right away. It will be business as usual while Steve teaches us the ropes and we work through the learning curves."