2021 BEACH BALL RAISES $25,000

Friends board will meet in mid-August to discuss how to allocate the funds.
Posted 8/10/2021
By Susan Thompson 
Lake Panorama Times
An estimated 200 people attended the Friends of Lake Panorama 2021 Beach Ball on July 30 at the Lake Panorama National Conference Center. After expenses, the event had a profit of $25,000.
The Friends board will meet in mid-August to discuss how to allocate the funds. Three projects had been designated to receive Beach Ball funding: Lake Panorama dog park, three swings at Sunset Beach, and enhancements to the Panorama West trail.
Information about these three current projects, plus two future projects, were on display at the Beach Ball. One of the new projects involves developing a proposal for a multi-use recreational area on Lake Panorama's south shore on the main basin. The proposal is expected to include a disc golf course and a walking/hiking trail with additional recreational amenities considered. The plan will need approval from the LPA board of directors before work begins.
The other new project is half-court basketball at Sunset Beach. The LPA board approved this project at its June meeting, and fundraising will begin this fall.
Both outdoor and indoor spaces were used for the Beach Ball. Outside tables were under a series of tents, located on the grass between the conference center and the golf course. A buffet dinner was served outside and included steaks and chicken kabobs cooked on a nearby charcoal grill. Little Joe McCarthy, a singer and songwriter who lives in Omaha, provided live music under an outdoor tent.
After dinner, with weather radar showing heavy rain headed to the area, a decision was made to move the live auction into the banquet room. Those sitting outside moved their chairs inside to participate in the live auction, while volunteers quickly took down tents and stacked tables and chairs as the rain arrived.
New in 2021 was the Friends Beach Club. Those who joined at one of these levels paid a little extra to get a little extra, while also making an extra donation to Friends of Lake Panorama. Friends Beach Club members were listed in the program.
There were 17 businesses and groups of individuals that spent $600 to join the Premier level of the Beach Club. Fourteen couples spent $200 to be in the Couples Beach Club, with 12 businesses or individuals spending $150 for the Sponsor level.
There were 77 items donated for the silent auction, which brought in nearly $5,000. The live auction of 13 items raised $8,000, and the profit from a 50/50 raffle was $2,250.
Donations to Friends of Lake Panorama are accepted at any time and can be designated for a current or future project, or for the general fund to be allocated by the Friends board.
Checks can be made payable to Friends of Lake Panorama and mailed to PO Box 488, Panora, IA 50216.
Direct donations also can be sent via Venmo @Friends-Panorama. Credit cards are accepted on the Friends website, although Friends is charged a 2.9% processing fee on these donations. Donors are asked to consider increasing their donation to help cover this additional cost.
All donations are tax-deductible. Donors of $500 or more will be recognized on signs erected near specific projects they designate and on the donor page of the Friends website. More information is available at 
www.friendsoflakepanorama.org
.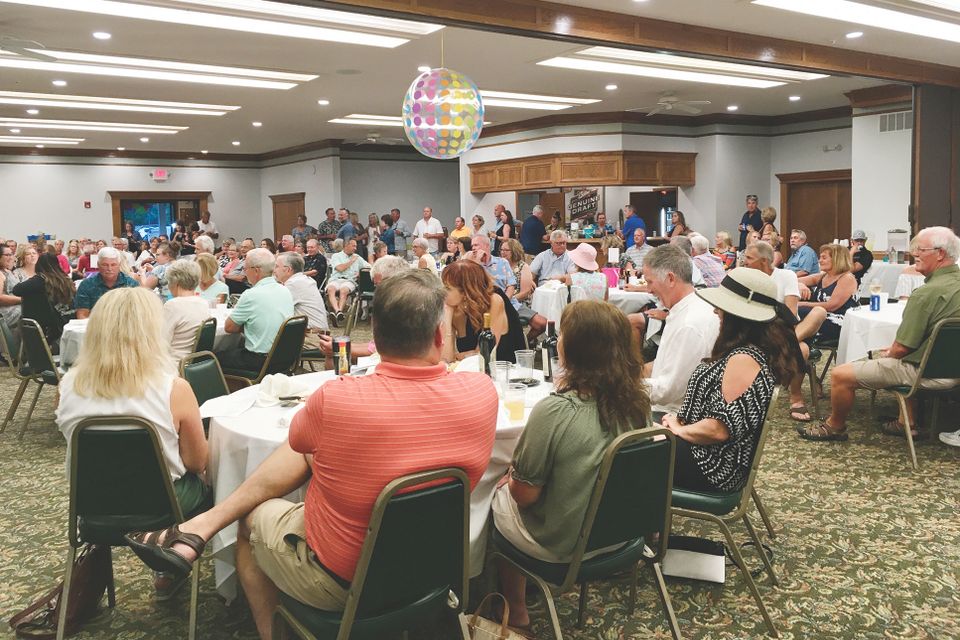 The LPN banquet room was filled for the Beach Ball live auction. Impending rain brought those who had been seated outside into the banquet room for the live action, which raised $8,000.