GRANITE CLUB MEMBERS PROVIDE FINANCIAL SUPPORT TO LPN

Just two holes remain available for sponsorship.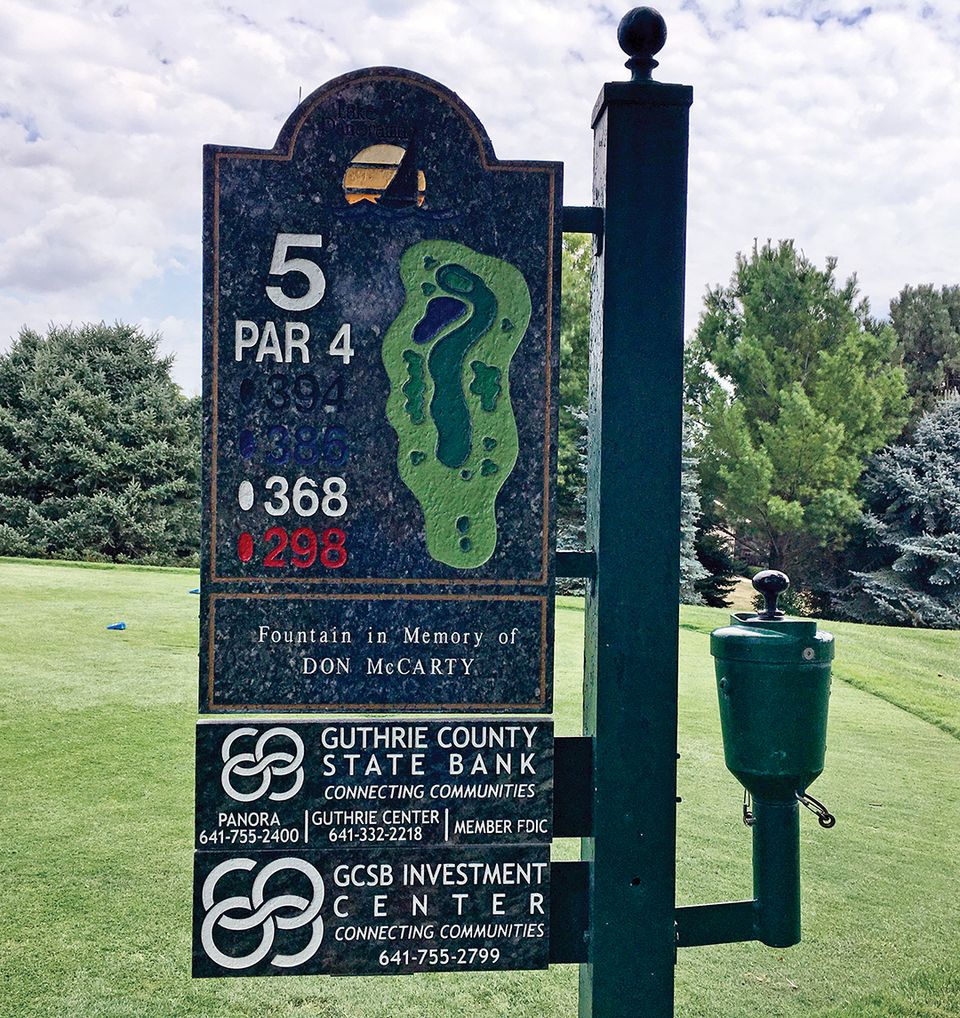 Posted 8/10/2022
By Susan Thompson 
Lake Panorama Times
In 2008, 12 businesses made monetary or in-kind contributions to Lake Panorama National to support the construction of Spikes, the snack and restroom facility located near the first tee. In exchange, the businesses received a granite sponsorship sign on an LPN tee box. Several have maintained their annual sponsorship since.
Five original Granite Club members who renewed for 2022 now are in their 14th year supporting LPN. These are Panora Telco on the third hole; Guthrie County State Bank and GCSB Investment Center on hole five; Exterior Sheet Metal on the eighth hole; Bryton Insurance on the ninth hole; and Total Financial Solutions on the 15th hole.
New members in 2021 who renewed in 2022 are the Kluster Klub, which is made up of a group of LPN supporters, and is on the second hole; Lake Panorama Realty on the 11th hole; and The Trash Man-Neil Wright on No. 14.
Lake Panorama Barge joined the Granite Club in 2020, is featured on the seventh hole, and now is in its third year in the club.
Minnesota Cabinets is on the 18th hole, and has been a member for four years. Five members joined in 2018 and are in their fifth years. These are R&K Bristle Farms on the first hole; Iowa Trust and Savings Bank on No. 4; Hawley Insurance on the sixth hole; and Robert Carr Insurance Agency-State Farm on No. 16.
Two members joined in 2017 and have renewed annually. These are Jensen Sanitation on No. 13, and Tometich Engineering on the 17th hole.
Just two holes remain available for sponsorship — 10 and 12. Annual sponsorships are $500. New sponsors also are asked to pay the cost of the sign.
Granite Club members receive a free round of golf for a foursome, including carts, when they purchase or renew their annual membership. Club members also are recognized on the LPN website and in the LPN Resort Weekly e-newsletter.
Details of the Granite Club, along with a request form for more information, can be found on the LPN website at lakepanoramanational.com. Or call Royce Shaffer, LPN operations manager, at 641-755-2080.