DONATIONS BEING SOUGHT FOR SHADE SAILS PROJECT AT LPN 

Both the LPA and LPN board of directors recently approved this project, as long as the $22,000 needed can be raised with private donations.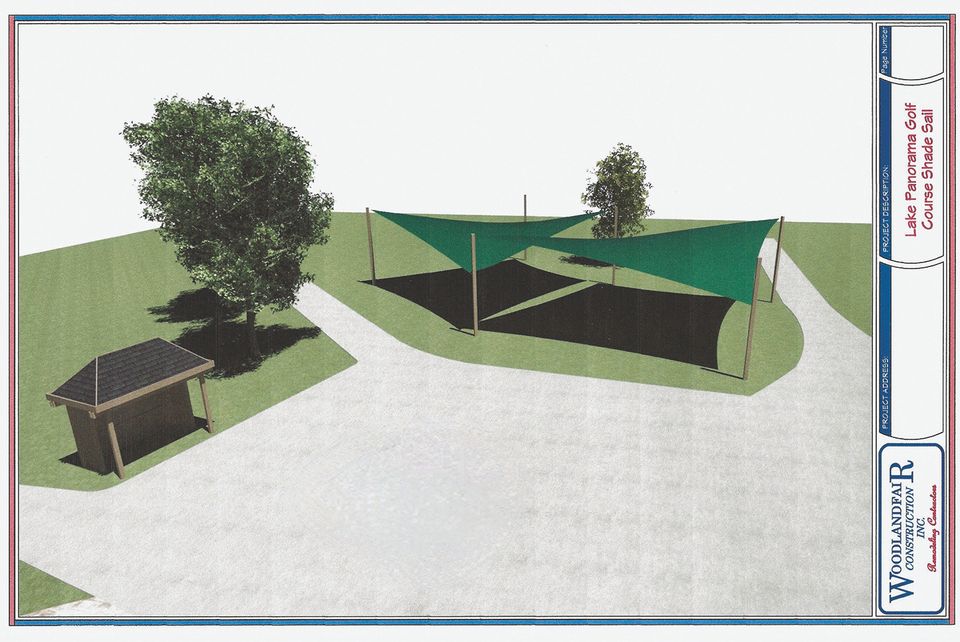 Posted 4/5/2022
By Susan Thompson 
Lake Panorama Times
A total of 304 ash trees were removed from the Lake Panorama National (LPN) golf course this winter. Eight of those were big shade trees located around the Spikes snack shop and between the first and 10th tee boxes.
Plans are being made to plant about 30 trees on the LPN course this year. These would be planted by tree spade, but it will be many years before the same amount of shade the old trees delivered is available again around Spikes.
Kane Powell is an avid golfer, electrician and builder who owns Lake Panorama Realty with his wife, Dee. While talking with other golfers about the loss of shade around Spikes, he came up with the idea of checking into artificial shade options. That led him to Shade Sails of Iowa, LLC, located in Grimes.
Shade Sails are made of a heavy-duty fabric and come in many shapes and colors. A company representative developed a plan that would provide shade in a 40-foot by 80-foot  grassy area east of Spikes.
Six metal poles would be installed in concrete footings with two sails attached to the poles at various angles to provide shade throughout the day. The sails would vary between 10 to 16 feet from the ground. The varying heights help the sails shed rain and leaves and provide an architectural dimension to the installation.
Both the LPA and LPN board of directors recently approved this project, as long as the $22,000 needed can be raised with private donations. The Friends of Lake Panorama board agreed to assist with this fundraising effort, which allows donations to be tax-deductible.
LPA officials say they still will plant some trees in the area near Spikes, but those locations won't be determined until this new artificial shade project is complete.
Powell says the sails would be a forest green to match the color of the metal roof on Spikes. If additional funds are raised, electricity could be run to the poles and lights strung. The sails would be taken down each fall and reinstalled each summer.
"Besides giving us back some shade in that area, this will provide a new venue for Lake Panorama National customers to enjoy," Powell says. "It will be a place where golfers can gather before and after tournaments and should relieve some of the congestion when golf carts park in front of Spikes. The shaded area is designed for golf cart gatherings. For a special event, tables and chairs could be moved under the sails on a temporary basis."
Once the money for this shade project is raised, the order will be placed. Powell says it will take four weeks from the time the order is placed until the poles and sails are installed. It's hoped the $22,000 goal can be reached fairly quickly, so the "horseshoe" area in front of Spikes will be shaded by the time hot, sunny weather arrives.
Fundraising is off to a good start because of a $1,000 donation in memory of Dr. David J. Wang. A former Panora dentist and Lake Panorama resident, Wang died in 2002 at the age of 40. In 2018, his family, including wife, Grace, son, Tony, and daughter, Cassie, donated $10,000 to Friends of Lake Panorama. Wang was an avid golfer who enjoyed the men's league and other golf events at the LPN. The bulk of the gift was used for renovations in the LPN dining room.
The family wanted the remaining funds to be used for a project on the golf course. When contacted about this Shade Sails effort, they quickly agreed this would be something their husband and father would have supported.
Donors of $500 or more will be recognized on a sign placed inside Spikes. All donors will receive a letter recognizing their donation for tax purposes.
Donations can be made by check payable to Friends of Lake Panorama and mailed to Friends of Lake Panorama, P.O. Box 488, Panora, IA 50216. Donations also can be made using Venmo @Panorama-Friends, or by credit card on the Friends website at friendsoflakepanorama.org.