THE LINKS LOUNGE NOW OPEN FOR BUSINESS


Hours of operation during the month of April are 3-10 p.m., Wednesday through Friday, and 11 a.m. to 10 p.m. Saturday.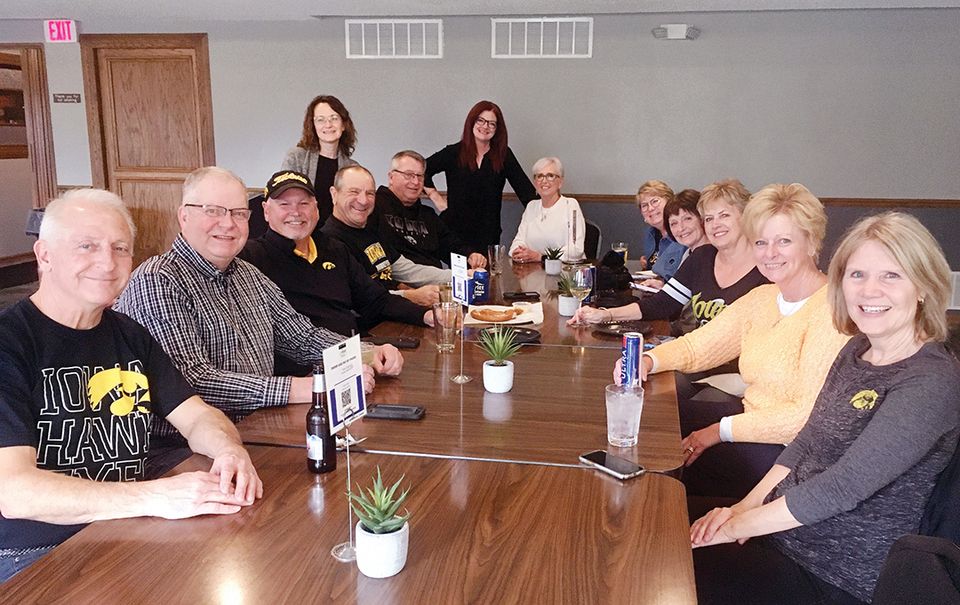 Posted 04/12/2023
By Susan Thompson 
Lake Panorama Times
The Links Lounge at Lake Panorama National Resort opened to the public Friday, March 31. Customers that day reached 200, buoyed by the chance to watch the Iowa Hawkeye women play in the NCAA Final Four on multiple televisions. The Links also was open April 1, beginning at 11 a.m.
Nick and Lynn Kuhn are the new tenants for The Links Lounge and all events scheduled at the resort. The couple owns The Beerhouse in Urbandale and The Hall DSM in Valley Junction, and lease the Sun Valley Lake Clubhouse Bar & Grille.
Hours of operation for The Links during the month of April are 3-10 p.m., Wednesday through Friday, and 11 a.m. to 10 p.m. Saturday. The kitchen closes at 9 p.m. Hours may expand in May to include lunch on more days than just Saturday, with a final decision made as the new month gets closer and customer demand can be evaluated.
"Every business has come with learning opportunities we can apply to the next business," Nick Kuhn says. "We've really perfected our business model. We've learned how to get food to customers quicker, keep the beer colder, and get their tickets to them faster."
Rather than a server bringing menus to tables, there are QR codes with table numbers on display on each table. Customers scan the code with their phone to review food and drink options and place orders. A name, phone number, email address, and credit card information must be provided to finalize the order. The menu is subject to change and is available online during business hours.
Customers can choose to close out their tab when they place their first order or keep it open in case they want to order additional items. Customers will want to close it before leaving. Any tab left open overnight is charged a 25% gratuity.
"If you look at our three other businesses, you'll see technology is the common thread," Kuhn says. "Using technology makes it possible for us to reduce costs, so we can keep our products priced fairly."
Lynn Kuhn says The Links customers are providing positive feedback on the ordering system.
"Many restaurants now are using this type of system," she says. "The COVID pandemic permanently changed the food and beverage industry. As restaurants had to pivot from in-house dining to takeout, many server positions were eliminated. Once bars and restaurants reopened, many of those who had worked as servers were no longer available."
If customers prefer, they can order both food and drink directly from the bartender. If they want to pay with cash rather than a card, they can see the bartender for that, too. Food and drinks are delivered by bartenders, kitchen staff and others working in the lounge.
A printed version of The Links menu is posted in the hallway near the entrance to the lounge, with some paper copies available in the lounge. Water, ice and a variety of non-alcoholic beverages are available at a self-serve station. A bottomless glass of soda or lemonade costs $4. Napkins, condiments and plastic plates and silverware can be picked up at a self-serve table.
The Links Lounge offers a full bar, including signature cocktails, well drinks, wine by the glass or bottle, and beer on tap and in cans. The menu covers several categories. For instance, shareables and sides include such things as chicken wings, truffle fries, sun-dried tomato dip, Cajun tots, onion rings, a giant soft pretzel, fried Brussels sprouts and a side salad.
In the "handhelds" category, customers will find chicken tenders, fish and shrimp tacos, an Iowa tenderloin, shrimp basket, a couple of chicken sandwiches and a fried shrimp Po' Boy sandwich. Another category features one-third pound burgers with a wide selection of topping options.
In the "soup, salads, wraps" category, customers will find beer cheese soup, three hearty salads, and buffalo chicken or vegetarian wraps. There's also a kids' category, and a wide variety of extra sauces available.
Lynn Kuhn is coordinating all events scheduled in the LPN banquet room and west dining room. Those who already have events on the LPN calendar for 2023, or would like to schedule an event, can contact her at
lkuhn@lakepanorama.org
.
Spikes and the beverage carts are included in the lease agreement. Deb Douglass, who has managed Spikes in the past, will again lead the snack shop and beverage cart operation for 2023. Deb McCurdy, who has worked in the LPN food and beverage operation for many years, has been hired to help in the lounge and with special events.
The Kuhns expect to have the kitchen fully staffed soon. Bryan Manning is the head chef for the Kuhns' restaurants and is leading the LPN kitchen staff. Ryan Smith, who owned and operated the Lake Panorama Pizzeria, has been hired as the daytime prep chef. Jen Symonds, who has extensive experience in the food and beverage industry and owns a restaurant in West Des Moines, has been hired as the catering chef.
"While we've filled many positions, we are always looking for good people," says Lynn Kuhn. "Applications can be found at the LPN front desk. Completed applications can be dropped off at the bar during open hours or at the front desk when The Links is closed."
All revenue from food sales at the couple's food operations, including The Links Lounge and events held at Lake Panorama National, passes through to the Justice League of Food (JLF), a 501(c)3 nonprofit founded by Nick Kuhn in 2017. After spending a few years feeding the hungry and homeless in Des Moines with local food trucks, Kuhn realized his efforts were not having the kind of impact he wanted.
The JLF program offers a paid 18-month culinary job training program for at-risk individuals, plus learn-to-cook workshops. These take place in the JLF kitchen, which is adjacent to The Hall DSM. The JLF goal is to reduce homelessness in central Iowa through skills training and job placement in the food and beverage industry.
The Kuhns have created a new Facebook page. Search for The Links Lounge + Events, and "like" the page to receive news feed updates. Hours of operation are listed, and announcements of specials and any closings due to private events will appear there.
"We're excited to get to know and serve Lake Panorama National golf members," Nick Kuhn says. "We also need their help to get the word out The Links Lounge is open to everyone. We're going to provide a great bar with great food, and we are eager to build a great customer base."